The number of Nigerians that made it back to Nigeria drastically reduced following moves by the South African government to frustrate the evacuation efforts.
Only about 187 adults and children were successfully evacuated on Wednesday as against the 320 Nigerians expected back home.
The flight arrived the Murtala Muhammed International Airport, Lagos, at 9.43pm.
One of the returnees, Uche Victor, told journalists that he left his wife who he said was a Cameronian and a young daughter behind.
He said, "I'm bleeding because I left my wife and baby but I have to come back because my mother cries for me to return. If something happens to me she will suffer.
"I left my business, I came back with nothing. South Africans believe all Nigerians are drug pushers, but I don't know the colour of any drug."
Victor, who explained that he left Nigeria for South Africa in 2007, explained that the attacks were anger against the government.
"TThey are only venting their anger on foreigners. They started with black and will move to whites," he said.
According to him, the flight would have returned earlier but the South African government made it difficult.
"They didn't want us to go but for Nigeria's consulate," he added.
Another returnee from Abia State, who gave his name as Onuoha, said a lot of Nigerians were still stranded as they could not return with their properties.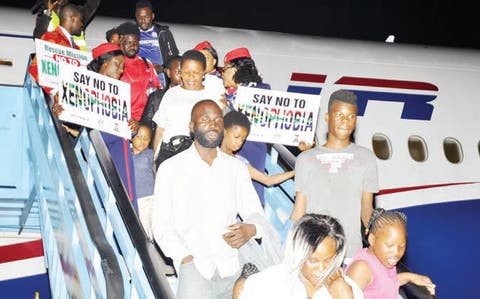 Aliu Saheed, from Osun State, said his shop was burgled and he came back home empty-handed.
But I'm happy to be home, I'm not going back again," he said.
S'A cancels visas issued to returning Nigerians
One of our correspondents learnt that the South African authorities went further to cancel visas that were issued to the returning Nigerians.
A picture on Facebook showed a Nigerian passport with a cancelled South African visa as of September 10.
The Chairman, Nigerian Diaspora Commission, Mrs Abike Dabiri-Erewa, said there was 15 hours delay before the flight left South Africa.